CORONAVIRUS : US IS FAILING ON TESTING , SAYS FAUCI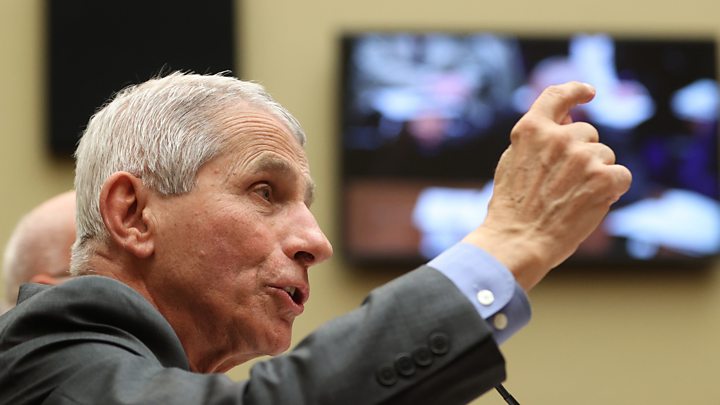 Fauci: "Let's admit it. The system is not geared to what we need."Exit player
Media captionFauci: "Let's admit it. The system is not geared to what we need."
The testing system for coronavirus in the US is currently failing, a top health official has admitted.
"The system is not really geared to what we need right now... let's admit it," said Dr Anthony Fauci from the National Institute of Allergy and Infectious Diseases.
Authorities in the US have come under fire for carrying out far fewer tests than many other affected countries.
There are currently more than 1,300 confirmed cases of the virus in the US.
President Donald Trump says the US has "a tremendous testing set up where people coming in have to be tested". However, he has not given further details, and there has not been routine testing for the virus in the US.
How many tests are being done in the US?
In an interview with CNN on Thursday, Vice-President Mike Pence could not confirm how many Americans had been tested for the virus, saying he "would leave that to the experts".
According to the Centers for Disease Control and Prevention (CDC), a total of at least 11,079 specimens have been tested since January. However, the number of people tested is likely to be lower, as patients typically provide at least two specimens for testing.
Furthermore, government officials say they do not know the number of people being tested, because some tests are being conducted by private hospitals and laboratories that have not been reporting in to the CDC.
The Atlantic, which is running a project to track the number of tests being conducted, estimates about 8,000 people have been tested. Meanwhile, lawmakers who went to a briefing with health officials told Politico that fewer than 10,000 Americans had been tested.
By contrast, South Korea has tested more than 210,000 people and is testing nearly 20,000 people every day, while in the UK, more than 29,700 people have been tested, and more than 1,000 tests are being carried out per day.
In neighbouring Canada, there are currently about 100 confirmed cases. About half of those are in Ontario, which has tested about 4,185 samples.
Dr Fauci acknowledged to a congressional hearing that the US faced particular difficulties with testing. "The idea of anybody getting it [testing] easily, the way people in other countries are doing it, we're not set up for that. I think it should be, but we're not."
Why has testing in the US been slow?
It could be down to a combination of factors.
The US declined to use a test approved by the World Health Organization in January - instead, the CDC developed its own coronavirus test. However, there were manufacturing defects with the initial CDC tests which meant many of the results were inconclusive.
Lawmakers who attended Thursday's health briefing said that there were also problems with the supply chain for testing kits, with stocks of cotton swabs and gloves running low.
And earlier this week, the director of the CDC told a congressional hearing: "There's not enough equipment, there's not enough people, there's not enough internal capacity."
"The truth is... we've underinvested in the public health labs."
What's the reaction been?
On Wednesday, President Donald Trump announced sweeping travel restrictions on 26 European countries - but was criticised by Democratic leaders Nancy Pelosi and Chuck Schumer for not addressing the lack of sufficient coronavirus testing kits.
Republican lawmakers have also expressed frustration, with one senator, James Lankford saying: "We've got a long way to go to be able to get rapid, efficient testing."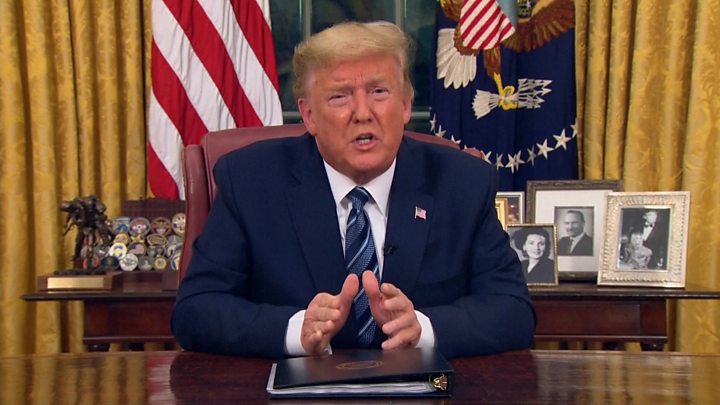 Media captionFive takeaways from Donald Trump's Oval Office address
Mr Lankford added that it was "not accurate" when President Trump said everyone in the US who wanted to get tested could get one.
Meanwhile, Senator Mitt Romney said it was "very frustrating" that the testing had been slow.
"You can't get wipes for your countertop. You can't get alcohol... and it's very difficult to get tests."
What is happening elsewhere?
In other developments:
French President Emmanuel Macron said all schools and universities would be closed from next week, and urged businesses to let employees work remotely
Canadian Prime Minister Justin Trudeau is self-isolating "out of an abundance of caution" after his wife began to show mild symptoms
The UK has called it "the worst public health crisis for a generation" and advised anyone with a new persistent cough or high temperature to self-isolate for seven days
Shares around the world have plunged as investors feared world leaders were not responding effectively
The number of cases in Italy has jumped to more than 15,000
Sporting events, including the Australian Grand Prix, and four football leagues, have been suspended
New York State is banning gatherings of more than 500 people from Friday 17:00 local time (21:00 GMT)

'We weren't prepared for this'
By the time the coronavirus hit Seattle and turned the city into the centre of the US outbreak, it had already spread rapidly in countries like Italy and Iran.
Despite this, Seattle doctors told me, their hospital wasn't ready for what was coming.
Dr Alex Adami of University of Washington Medical said: "None of us were actually trained in how to deal with the precautions for this disease, or what to do in terms of screening or providing care for these patients."
Hospital workers and patients were exposed to the virus as a result, he said.
Another doctor at the hospital, who asked to remain anonymous, said that failing to prepare was "foolish" and may have exacerbated the spread.
Initially, the hospital said that broader training was not needed, arguing that having only a small group of doctors working with coronavirus patients would limit exposure.
Hospitals in Seattle have since updated their procedures, but Dr Adami feared the same mistakes could be repeated elsewhere in the US.
"I want other hospitals in the US to look at this and say, 'what can we do better?'. I want people to look at this and learn the lesson that you have to be proactive and not reactive."